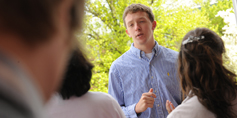 Passphrase Reset
The College of the Holy Cross uses a single username and passphrase to access the network, STAR, Moodle, HC Web Services and most other applications. Students, Faculty and Staff have a separate password for email (Gmail).
Change your passphrase or register your questions and answers. You must know your current username and passphrase.
You must know your username and answer two of your registered questions.
You must know your Holy Cross network username and passphrase.